What customers themselves say
Read how our beds are rated by people who have already tried them.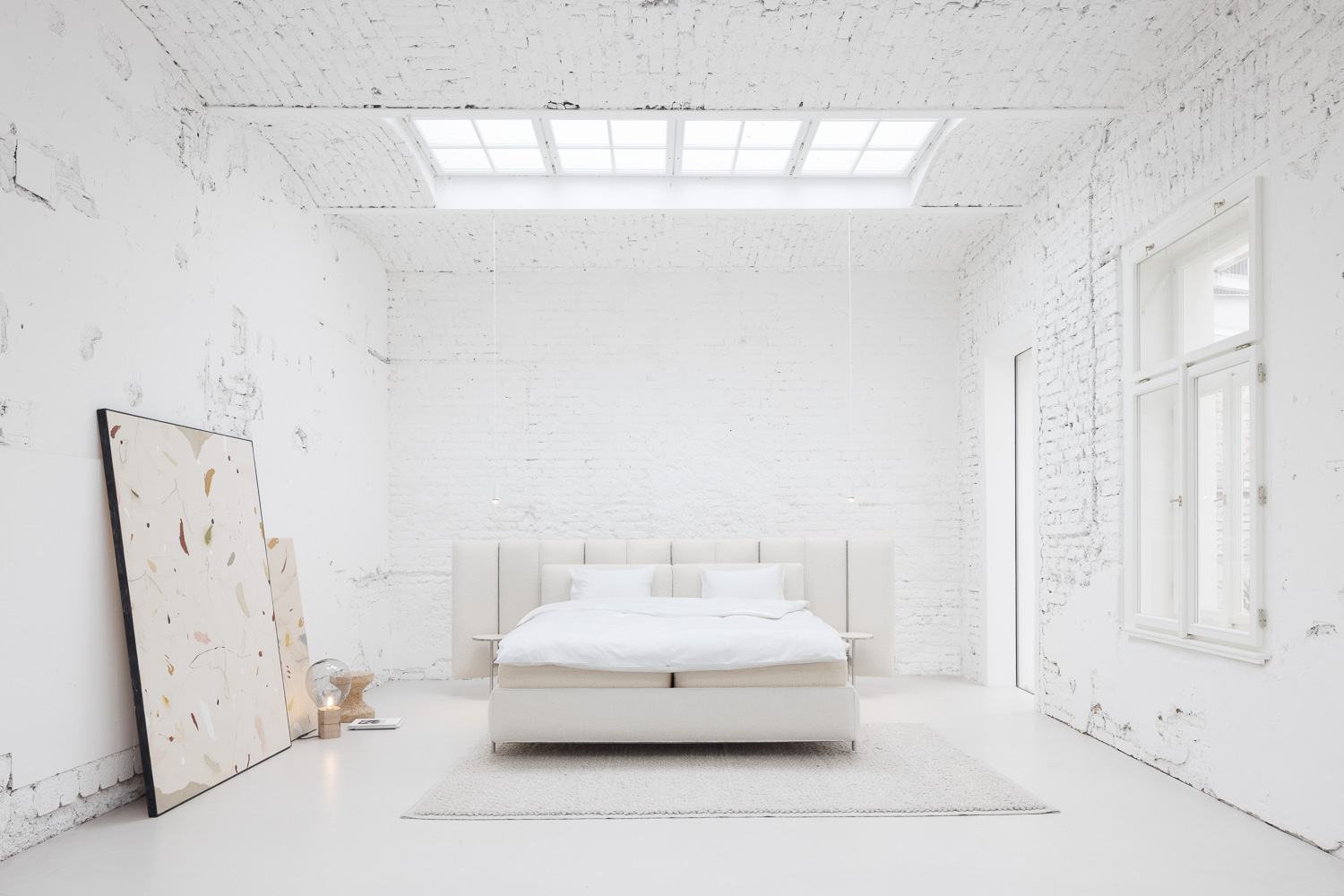 Ursa bed including headboard and accessories on customer's request
"We must emphasize the services of the company. Renting a bed is really the best way to try it out. Also, how else would you know if it's the right bed and mattress for you? The custom made headboard and accessories were also very important to us because we like everything to be matched down to the last detail, so we were literally thrilled with this option. 🙂 We have also ordered curtains in the same design as the bed, and we will definitely buy more bedding in the future. It might be a good tip as a gift as well. :-)"
regular customer since 2018, Dream mattress including accessories and top mat for the whole family
I've been using the Dream mattress for about four years now and it's been an incredible experience! It's hard to explain to people, you have to try it, experience the incredible difference. The mattress is amazing not only for sleeping but also when you want to relax. Just lying on it is enough to restore your mind and body.
Before I bought a mattress from Johann Malle, it quite often occurred that I woke up nervous, bruised, sleep-deprived. Since I got it, it's been a different story. Too bad people don't realize how important a good night's sleep is. And we're talking a quarter or even a third of your life! They try to save money on a mattress, they look at the price and then buy a piece of ordinary foam. I didn't figure it out until I was in my 40s either, but I figured it out. Stanislav Zvrškovec, regular customer since 2018, Dream mattress including accessories and top mat for the whole family.
returning customer, two Ursa beds including accessories
I sleep so well! The mattresses from Johann Malle are excellent and dealing with the company has always been absolutely perfect. We already have two Ursa beds and had them customized, which is no problem at all with JM. On the contrary, they asked for things I wouldn't have thought of in relation to the bed. It's just that the bed is so comfortable, my back stops hurting, I really get to rest at night. It's like discovering a new world. We even went to the workshop, which would recommend to everyone. It's the only way to see and feel the quality of the materials. And watching the craftsmen at work is a real treat.
owner of Ursa bed including mattress and topper
I have always been of the opinion that quality things are to be praised, and your bed is 100% such a thing. Until I tried it, I didn't believe that materials could have such a significant impact on how a person sleeps. Foam, polyester – doesn't it really matter? It really does! Our ancestors weren't stupid and knew why to use cotton, linen, even horsehair. And I'm glad Johann Malle is carrying on that tradition. You really deserve praise for that!
owner of the Ursa bed including accessories
The Ursa Bed is all me. I chose the firmness of the mattress, the upholstery fabric, the quilting, the feet and a bunch of other things. The service is impeccable, they accommodated me fully, met my deadline, not to mention the top quality. If we ever happen to move, the bed will 100% go with me. Johann Malle can take care of that too, he really thinks of everything. Thank you so much for a fantastic sleep and I recommend it to everyone!
satisfied customer and owner of a custom-made continental bed
After three years of using the Johann Malle bed, I would just like to write to tell you that it is the best bed we have ever slept on. Thank you very much for it.
Every time I wash everything or turn the mattress :D, I again see the quality of the workmanship – everything holds as it should, everything is firm, the mattress is stable in colour and shape.
We have travelled almost all over Europe and slept in a lot of really nice 5* hotels, but NOWHERE had a better bed than the one we got from you. In none of them did we sleep as well as in yours. And to be honest, none ever looked better than ours 😀
And even though I don't often write, I have the urge to write to you to say thank you for it and that the bed has really lived up to our expectations, it is beautiful, and most importantly incredibly comfortable. And so far we haven't found a better one anywhere, we always look forward to ours again 🙂
So again, thank you.
owner of the Ursa and Dorado beds including mattresses and topper
A good night's sleep is something you shouldn't underestimate. If you don't get enough sleep, it can ruin your day. So one day I decided to just find a bed that didn't compromise. I was impressed with Johann Malle's overall approach right from the start, the depth of their understanding of healthy sleep, I felt like they were speaking to my soul. In the end, I decided to go for the Ursa bed, which is one of the best in the company's range, even with the mattress and topper, because the overall feeling of comfort is really worth it. One of the biggest surprises was the mattress, I had always associated spring mattresses with my grandmother's old ottomans, but here I realised that when done really properly the feeling is indescribable. Thank you so much for the opportunity to experience something like that.